Storm Prediction Center
NOAA STORM REPORTS
Issued by the Storm Prediction Center in Norman, OK
Select date for other reports
July 12, 2020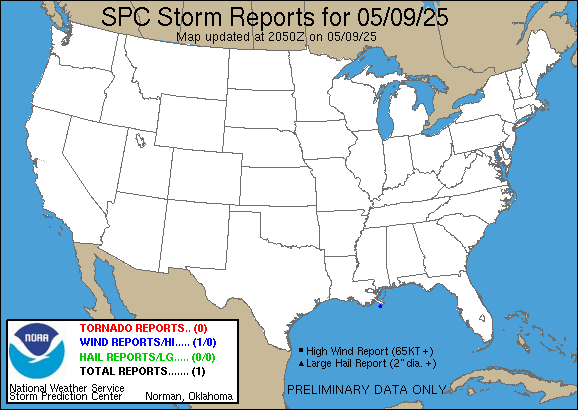 2 reports sorted by the latest reports first
Jul 12 8:42 am
CDT
TENNESSEE - MADISON COUNTY - 3 SE HUMBOLDT
WIND - MULTIPLE TREES DOWN IN THE TOWN OF THREE WAY.
Jul 12 7:55 am
CDT
TENNESSEE - OBION COUNTY - 2 N KENTON
WIND - SIGNIFICANT TREE AND POWERPOLE DAMAGE ON HIGHWAY 45 NEAR KENTON. UPWARDS OF 25 POWERPOLES DOWN OR SIGNIFICANTLY LEANING. A BARN WAS DESTROYED.
Daily reports from the Storm Prediction Center starts at noon UTC and ends at one minute before noon UTC the next day. This time period is between 7am CDT and one minute before 7am CDT the next day.
All reports are considered preliminary and should be treated as such.