Storm Prediction Center
NOAA STORM REPORTS
Issued by the Storm Prediction Center in Norman, OK
Select date for other reports
September 28, 2022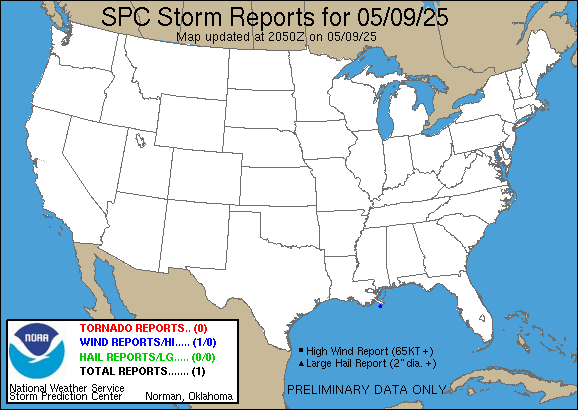 4 reports sorted by the latest reports first
Sep 28 6:55 pm
CDT
UTAH - TOOELE COUNTY - 16 SW DUGWAY
WIND - 59 mph - TOWER GRID SENSOR DPG11
Sep 28 2:29 pm
CDT
FLORIDA - BREVARD COUNTY - 5 W CAMP HOLLY FISH CAM
TORNADO - MULTIPLE SOCIAL MEDIA VIDEOS SHOWED A BRIEF TORNADO SUPPORTED BY RADAR IMAGERY CROSSING HWY 192 JUST EAST OF THE BREVARD/OSCEOLA COUNTY LINE BETWEEN SAPLING LANE AND BU
Sep 28 12:50 pm
CDT
UTAH - TOOELE COUNTY - 2 SSW GRANTSVILLE
WIND - 69 mph - GRANTSVILLE SOUTH SENSOR.
Sep 28 8:00 am
CDT
FLORIDA - AMZ572 COUNTY - 25 ENE PORT CANAVERAL
WIND - 58 mph -
Daily reports from the Storm Prediction Center starts at noon UTC and ends at one minute before noon UTC the next day. This time period is between 7am CDT and one minute before 7am CDT the next day.
All reports are considered preliminary and should be treated as such.