Weather Radio
HardinCountyWeather.com offers a lot of valuable weather information. To be informed immediately of any threatening weather we recommend you purchase a weather radio with alert capability. Today's weather radios now have a technology called SAME which stands for Specific Area Message Encoding. Every county has a unique SAME code.

When the National Weather service issues a warning, watch or advisory, then only those weather radios that are in the affected areas, and have been programmed with the appropriate SAME code or codes, will sound an alert tone. The National Weather Service also sends out Amber Alerts over weather radios. Severe weather can and has occurred during overnight hours. A weather radio with alert capability can be a life-saver if severe weather strikes while you are asleep.
Most retail and online stores carry a variety of weather radios. We recommend Midland weather radios, they are reliable and have these important features:
• SAME Localized reception.
• All 7 NOAA radio channels.
• Public Alert Certified.
• Portable.
• Runs on battery power in case of power failure.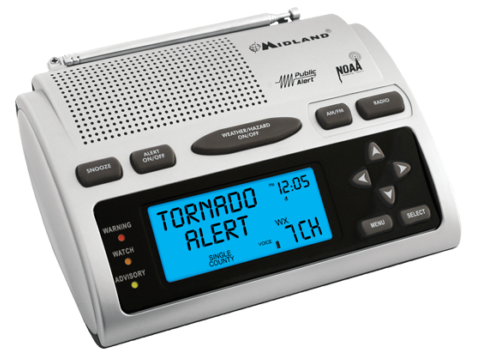 ---
The following table shows the SAME codes for Hardin and surrounding counties, along with the NOAA stations that issue the alerts for each county.
County
SAME Code
NOAA Station
Frequency
Chester
047023
Jackson
162.550
Decatur
047039
Lobelville
Clifton
162.525
162.500
Hardin
047071
Booneville MS
Jackson
Clifton
162.400
162.550
162.500
Henderson
047077
Jackson
Lobelville
162.550
162.525
McNairy
047109
Booneville MS
Jackson
Clifton
162.400
162.550
162.500
Perry
047135
Lobelville
Clifton
Waverly
162.525
162.500
162.400
Wayne
047181
Clifton
Lawrenceburg
Lobelville
162.500
162.425
162.525
Alcorn MS
028003
Booneville MS
162.400
Tishomingo MS
028141
Booneville MS
162.400
Lauderdale AL
001077
Florence AL
Clifton
162.475
162.500
A complete list of SAME codes and NOAA frequencies is available here.